Philanthropy in Action enewsletter from HonorHealth Foundation
Read the September 2022 issue (PDF).
September 2022
Happy World Gratitude Day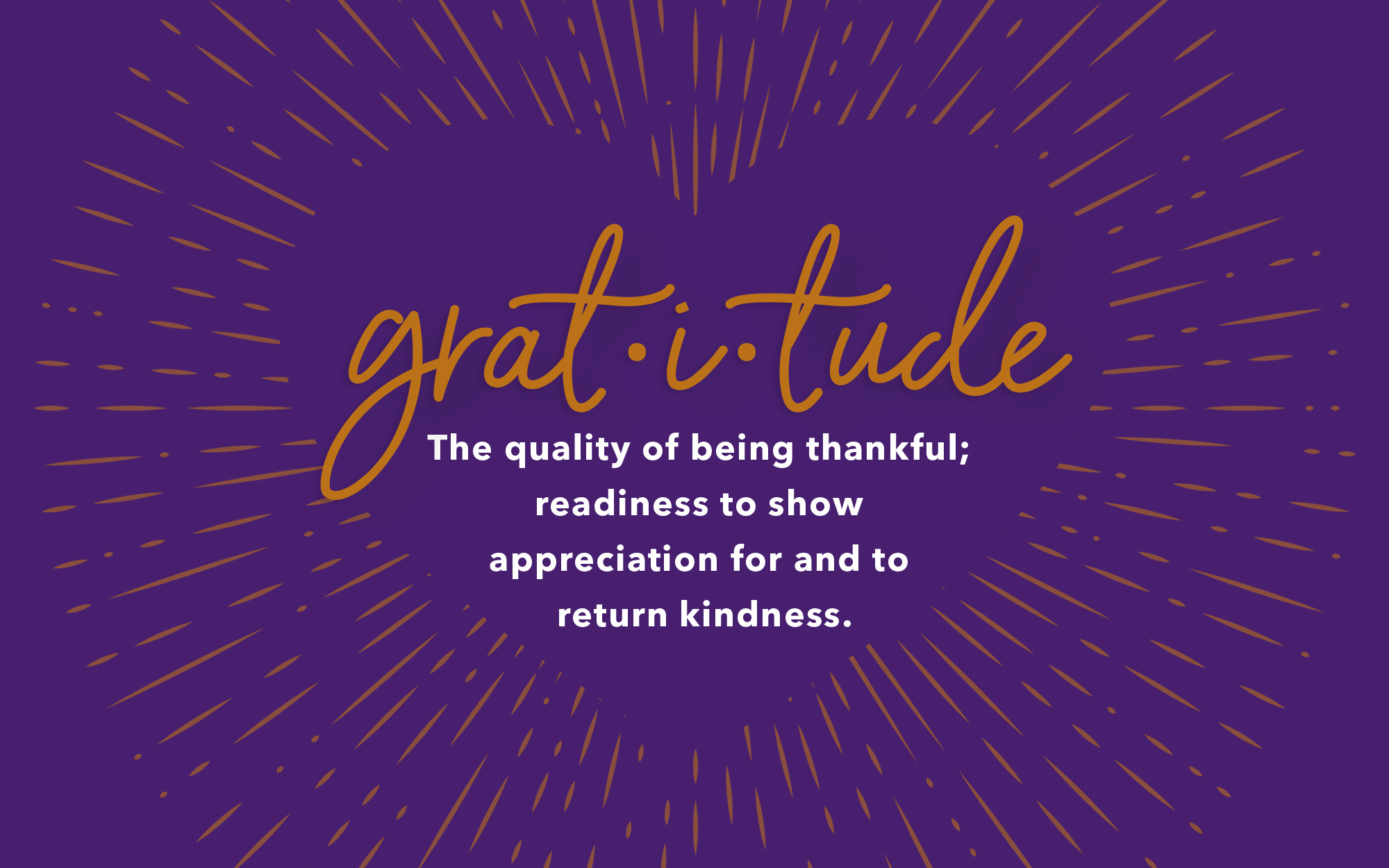 Today is World Gratitude Day – a day to celebrate the big and small things for which we can be grateful. Good health. The love of friends and family. A weekend away. Puppies. Sonoran sunsets.
Beyond being a great way to spend the day – in a state of gratitude – the art and act of gratitude actually offers health benefits, including boosting our immune system and lowering stress!
We embrace the power of gratitude here at the Foundation because we have so much to be grateful for: exceptional and generous donors, thoughtful, dedicated staff and the ability to help transform lives through our work, every day.

Keeping Helen's memory and passion alive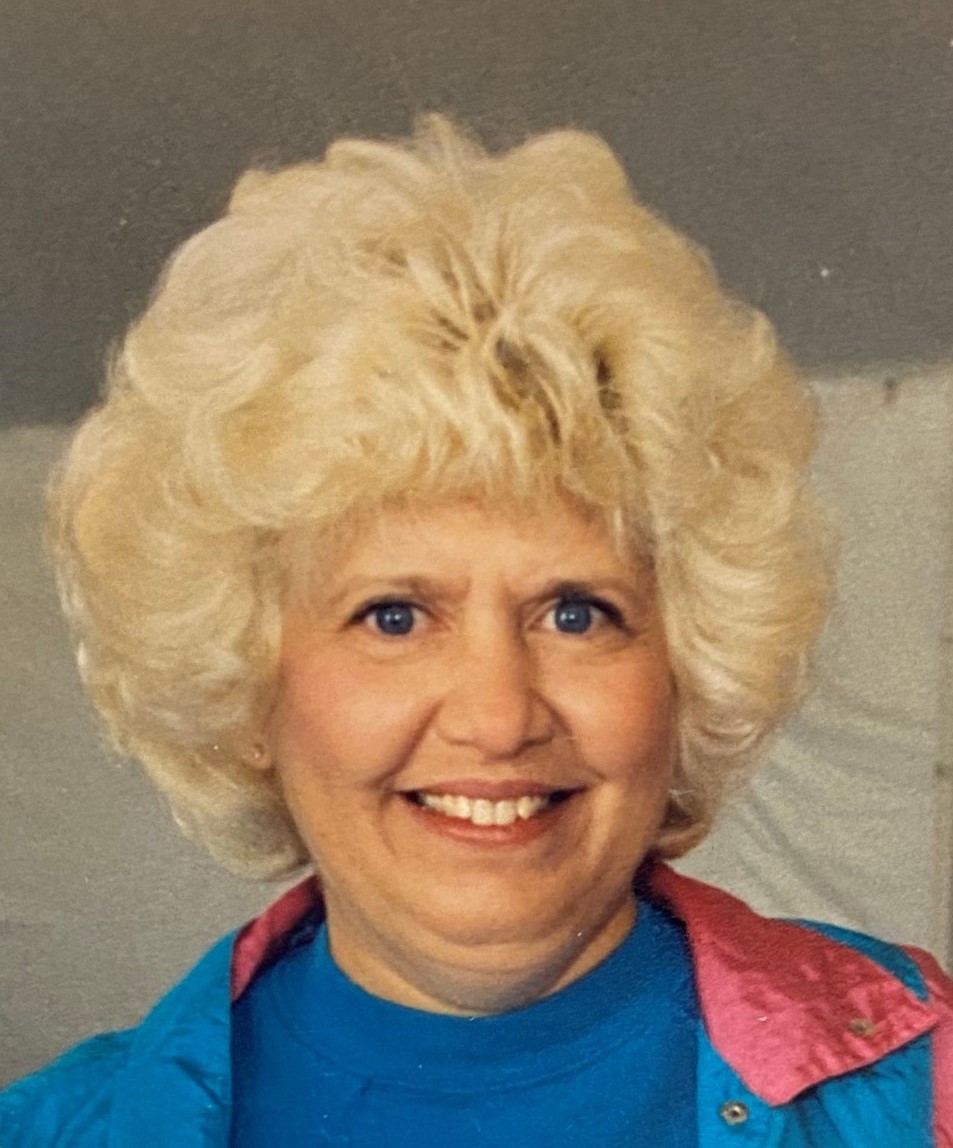 Helen Ann Shain left an impression on everyone she touched, even after her passing from cancer in 2018. As an HonorHealth nurse for 35 years, her passion, excellence and enthusiasm for her role at the hospital, and in the world, was well-known. It is also the reason her husband, Steve, conceived the Helen Ann Shain (HAS) Excellence in Nursing Education Endowment Scholarship Fund.
"Helen was a surgical nurse for years and could really 'do it all.' When she went to work in the ICU, she expanded her nursing knowledge to trauma and neuro critical care as well," noted friend and co-worker Kathi Zarubi, vice president and chief nursing officer at HonorHealth. "Helen could start an IV on a ROCK and she could manage to care for the most challenging patients with the same humanity that she extended everyone."
Helen passed away on October 29, 2018, after losing her third battle with breast cancer. Her husband Steve, along with many friends and coworkers, wanted Helen's pursuit of excellence in nursing and education to live on in perpetuity. Together, they created the HAS Excellence in Nursing Education Endowment Scholarship Fund to ensure all nurses have the opportunity for quality, continuing education; something Helen always pursued as a "life-long learner." In fact, because of her dedication to always giving her best, Helen worked hard and enthusiastically to ensure the prestigious MAGNET® certification at HonorHealth's hospitals was achieved. Magnet-recognized organizations are seen as leaders in the reformation of healthcare, the discipline of nursing, and for their care of the patient, family and community. (See story below.)
"I learned a lot about Helen during our 34 years of marriage; she was intelligent, determined, passionate and thirsted for knowledge," remarked Steve. "Whatever Helen set out to accomplish, whether it was her arts and crafts, painting, calligraphy or nursing — she succeeded and flourished."
Helen's memory and commitment to excellence in nursing lives on through this scholarship. And now, nurses throughout HonorHealth have another opportunity to engage in continuing education.
Contact HonorHe​alth Foundation​ for more information, or visit HAS Excellence in Nursing to provide your support for this endowment fund.

What is more precious than GOLD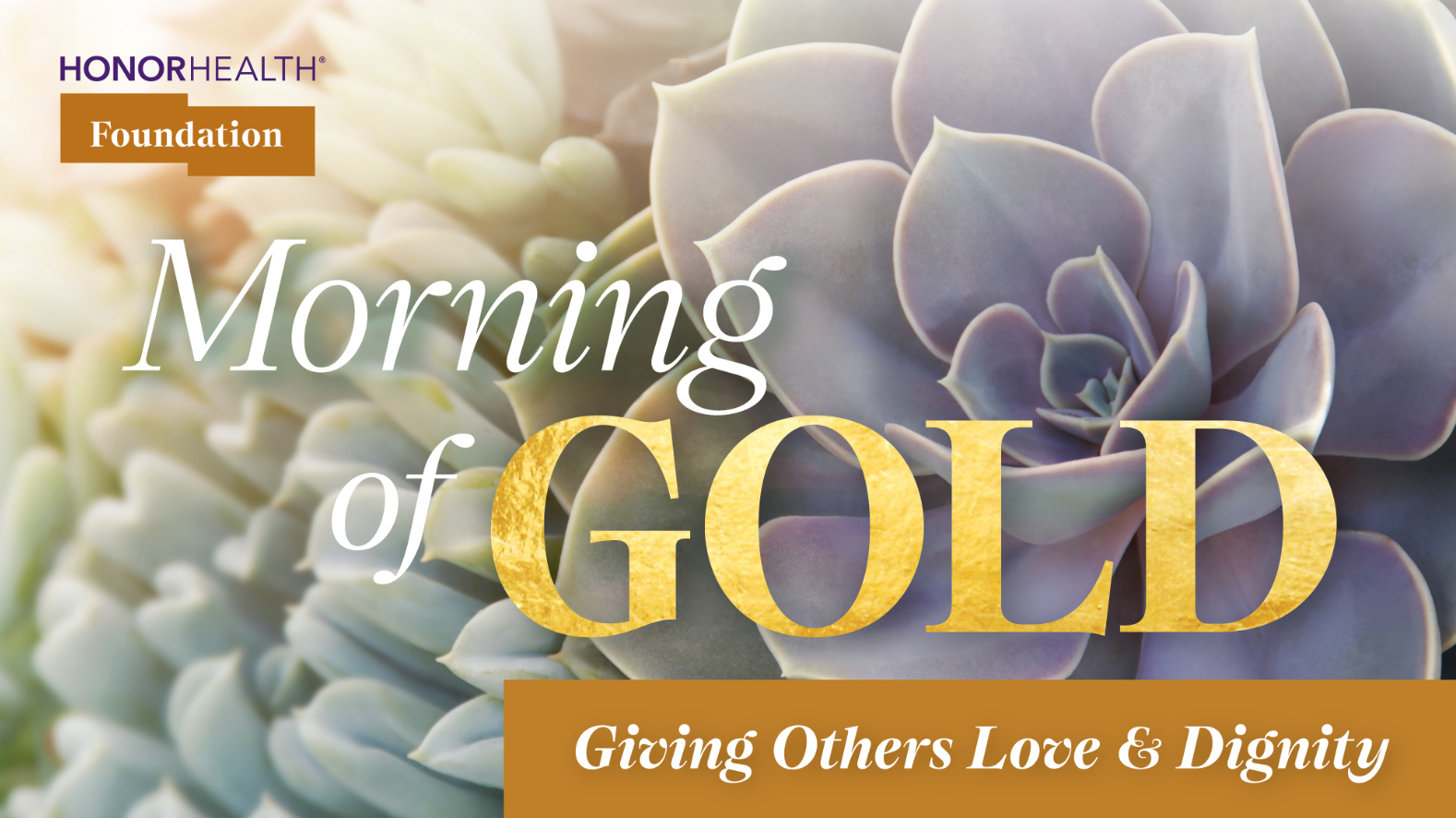 Will you be joining us? In October we will introduce a new fundraising event that supports the services of HonorHealth Desert Mission… the Morning of GOLD (Giving Others Love & Dignity).
Rise and shine with us at this very special breakfast that will positively impact the lives of our most vulnerable neighbors. Desert Mission provides critical services for at-risk families, including early childhood education, adult day health care and a food bank.
Morning of GOLD
Thursday, October 27, 2022
Arizona Biltmore Resort
7 am, registration and networking
7:45 am, breakfast and program
Event details, registration and sponsorship information.

Nourishing Neighbors breakfast campaign for kids
Join HonorHealth Foundation in making sure the kids in our community don't have to worry about not having any breakfast to eat.
You can make an immediate impact by donating to the Nourishing Neighbors fundraiser through September 30 at local Albertson stores. All funds donated at stores will support Desert Mission's services.
Participating Albertsons stores, include:
3450 W. Bell Rd, Phoenix
7920 E. Chaparral, Scottsdale
13440 N. 7th St, Phoenix
8035 N. 19th Ave, Phoenix
Thank you!

Navigating blood cancer with Dr. Abraham Kanate
September is Blood Cancer Awareness Month and reminds us to pause and take a moment to honor the 1.5 million people in the United States living with blood cancers. Did you know that HonorHealth is one of the few health systems that treats adult blood cancers in Arizona?
Dr. Abraham Kanate, MD, hematologist and oncologist at the HonorHealth Cancer Transplant Institute took time from his busy schedule to answer a few questions about his team's work to help patients and families navigate the cancer journey.
"The diagnosis of cancer is devastating," states Dr. Kanate. "It is intrinsically unfair and we recognize it. Caring for cancer patients is a truly humbling experience making us realize the fragility of life and health."
What is the biggest challenge most patients face navigating the journey of a blood cancer diagnosis?
Obviously, a diagnosis of blood cancer creates turmoil on all levels – emotional, physical and psychosocial. Depression and anxiety are common. The challenge is that cancer doesn't just affect the individual, but it impacts the entire family.
What can a patient expect having your team at HonorHealth be their medical partners and caregivers?
Love, respect and compassion from every staff member. Comprehensive, state-of-the-art therapies that include traditional chemotherapy and immunotherapy, targeted therapies, blood and marrow stem cell transplantation and cellular therapy. And, importantly, a multi-disciplinary team approach to a treatment plan which is discussed at length with the patient to meet their individual goals.
What new or innovative approaches are donors helping us deliver to transform blood cancer?
Innovative forms of immunotherapies such as BiTE (bispecific T-cell engager) therapy, antibody-drug conjugates and targeted therapies are now available. With the availability of CART therapy (chimeric antigen receptor cell) — the therapeutic armamentarium at least for B-cell acute lymphoblastic leukemia, specifically, has expanded.
And finally in collaboration with HonorHealth Research and Innovation Institute, we have further access to clinical trials and thus to the very cutting edge of research and evolving therapies.

Congratulations to our very own Brenda Solomon
HonorHealth Foundation is committed to transparency, excellence and ethics in every aspect of the work we do. It is especially critical to demonstrate it to our donors, who trust us with their investment and implementing their philanthropic vision. So it is with great honor that we congratulate Brenda Solomon, Vice President of Major Gifts at HonorHealth Foundation, for achieving her Certified Fundraising Executive (CFRE) certification!
The CFRE certification is a voluntary credential that demonstrates a fundraiser's commitment to accountability, service, integrity, diversity, competence and the highest standards of ethics. Accreditation is a rigorous third-party certification that assesses fundraising competence in several areas including leadership, management, ethics, relationship building and research.
"The sense of personal satisfaction in achieving this professional milestone is overwhelming and I'm grateful the Foundation supports this level of professional development," said Brenda. "After 25 years in fundraising I have sharpened my skill set, but can now help my colleagues by sharing this new knowledge while mentoring them on accomplishing CFRE certification for themselves."
The Foundation is working toward 100 percent CFRE certification for our fundraising staff and joining this small, elite group of professionals globally.

HonorHealth Osborn earns prestigious designation
Congratulations to HonorHealth Scottsdale Osborn Medical Center for earning another Magnet® re-designation! This prestigious honor is awarded by the American Nurses Credentialing Center (ANCC) and is recognized worldwide as the designation of excellence in healthcare, specifically nursing.
Read the media release for more information.