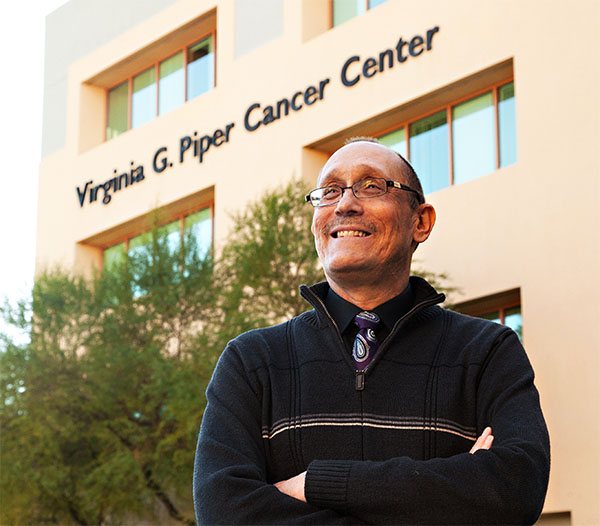 Phil's Fund
Phil's Fund helps to remove some of the financial barriers for persons with pancreatic cancer who are seeking additional opinions or participating in clinical trials at the HonorHealth Research Institute.
Phil's Fund provides grants to persons with financial need who are seeking additional opinions or participating in a clinical trial for the treatment of pancreatic cancer.
Phil's Fund can help to offset the cost of:
     • Transportation to appointments
     • Daily living expenses
     • Rent or lodging
Phil's story...
In 2014, Philip "Phil" Zeblisky was diagnosed with Stage 4 pancreatic cancer, and given less than a year to live. Not willing to take "no" for an answer, Phil began his search... for a cure, if possible, but also for quality of life, and for hope. After a long journey, he and his wife, Kathy, found the HonorHealth Research Institute. There, he was offered breakthrough treatment, customized for his cancer profile, and in spite of the devastating diagnosis, he did find hope.
Phil participated in numerous clinical trials at HonorHealth, as well as at the University of Pennsylvania. Phil worked tirelessly while on treatment, to help other pancreatic cancer patients through his advocacy work with TGen, the Pancreatic Cancer Action Network and the Seena Magowitz Foundation.
During this difficult time, Phil chose to approach his life, his diagnosis and his treatment with a positive outlook. He met each with an open heart and a fierce spirit to find a cure, and if that was not possible, to make the process a little better, a little brighter, for everyone who was on the same journey.
In January 2018, after a brave battle, this courageous warrior died after living with pancreatic cancer for close to four years. True to his word, he made every day, every minute count. To honor her extraordinary husband, and to help others faced with a similar situation, Kathy established Phil's Fund. This special fund is here for cancer patients to offer financial support while they are undergoing treatment and/or participating in a cancer clinical trial.
The battle against cancer continues, and according to the American Cancer Society, in 2021 more than 60,000 people in the U.S. will be diagnosed with pancreatic cancer. The reality is that while we continue to search for cures, patients and their families need help now. HonorHealth Foundation invites you to join us in this critical mission to offer hope and financial support to those like Phil, fighting for their lives.
Please note: Phil's Fund cannot directly pay insurance copays, deductibles or out of pocket medical expenses.
If you are interested in providing philanthropic support for Phil's Fund, please contact HonorHealth Foundation, or by phone at 480-587-5000.